No, not with THAT important thing

LOL

!!! With posting birthday wishes and pictures for Rachel.
Her 'golden' birthday was on the 8

th

, see I told you I'm late!!
On Friday the 7

th

, we'd invited a friend, two cousins (technically 2

nd

cousins), and 4 Aunts to go ice skating with her. That was what she wanted to do for her birthday. They all had a blast and she hadn't seen a few of them in a few months so she was really excited that they could make it. I don't ice skate, used to be I would've tried it but after bruising my tailbone when A. was 8 months old in 2004 and suffering through that pain for months I'm not about to risk doing that again by falling on the ice. So hubby took Avery out to try out skating for the first time....he didn't last very long ;0)
The girls actually didn't do this often but I got lucky with this shot I thought, catching all the progression. Rachel is in the middle the girls on each side are my two cousins daughters.
HAPPY!
Then the weather ruined the plans for birthday cake the next day so we ended up 'rockin out' with the Hannah Montana cupcake cake here at home just the five of us!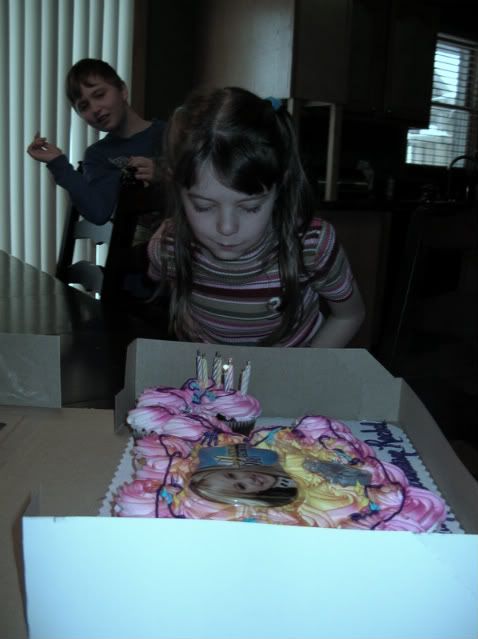 So now that I've caught up with her birthday, I won't feel so bad come Friday or a few days later that I'm posting about her older brother's birthday and didn't forget hers LOL!!