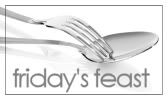 Appetizer
When someone smiles at you, do you smile back? Almost always.
Soup
Describe the flooring in your home. Do you have carpet, hardwood, vinyl, a mix? We have plush carpet in the bedrooms and Berber carpet in the family room. In the kitchen, dining room, formal living room & hallway we have 3/4" solid Oak hardwood flooring. The bathroom is vinyl ~ it was here when we moved in. And the laundry room is cement only.

Salad
Write a sentence with only 5 words, but all of the words have to start with the first letter of your first name. ??


Main Course
Do you know anyone whose life has been touched by adoption? Yes

Dessert
Name 2 blue things. Jewels and bluebonnets

FRIDAY FILL-INS
1. The lasagna had an extra secret ingredient; it was delicious!
2. Looking through my window.
3. Right now, I need entertainment.
4. Nowhere is where I went Thursday night; it was pouring the rain.
5. Why does pain hurt so much?
6. All I can think of is the laundry.
7. And as for the weekend, tonight I'm looking forward to nothing, tomorrow my plans include ballet class and Sunday, I want to eat out!