Around here I call March the Birthday Season.
Seriously, four out of five in this house have a birthday in the month of March, the other is just into April. But, not only do we all have birthdays in March we have lots of other family members and very close friends that also have birthdays in March, beginning yesterday these are the dates of March when we have birthdays to celebrate.
March 1, March 2, March 3, fr. b-day. March 4, March 6, March 8, March 9, March 11, March 15, March 17, March 21, March 24, March 26, and March 30. Some of those days there are both family members and friends celebrating.
Is there a month on your calendar that just seems overloaded with birthday's?
First up here? Our son Avery. I can't believe my baby is 6 today!!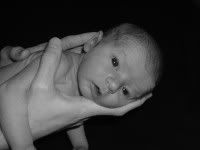 HAPPY BIRTHDAY AVERY!